Join Our Family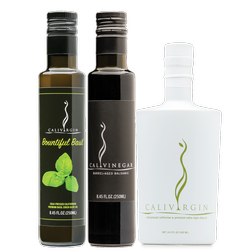 Club Calivirgin
$40-$60
2-3 Bottles per release; selections will vary to include olive oils, balsamic vinegars, etc (no wine).
3 club releases per year in March, July & November.
20% off all Calivirgin & Lodi Olive Oil product purchases Online & in Tasting Room (Calivines brand purchases excluded).
Complimentary Olive Oil Tasting for you and up to 3 guests (4 people total).
Be the first to receive our Olio Nuovo (New Oil) as part of the November Shipment.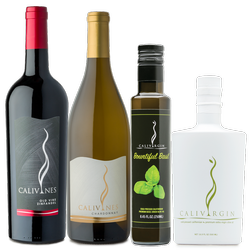 Club Branch & Vine
$120-$180
4-6 Bottles per release; 1-2 olive oil/balsamic bottles & 4-5 wine bottles.
3 club releases per year in March, July & November.
20% off all purchases Online & in Tasting Room (From All 3 Brands).
Complimentary Olive Oil & Wine Tasting for you and up to 3 guests (4 people total).
Be the first to receive our Olio Nuovo (New Oil) as part of the November Shipment along with first access to reserve & limited production wines.
Club Branch & Vine not available for shipping at this time
Club Calivines
$100-$150
4 Wine Bottles per release; varietals will vary (wine only, no olive oil/balsamic).
3 club releases per year in March, July & November.
20% off all Calivines product purchases Online & in Tasting Room (Calivirgin & Lodi Olive Oil brand purchases excluded).
Complimentary Wine Tasting for for you and up to 3 guests (4 people total).
Receive first access to reserve & limited production wines.
Club Calivines not available for shipping at this time